Welcome to Papa Luna Palace Hospedería***
The Papa Luna castle palace, where Benedict XIII, the most famous Pope unrecognized in official succession, was born, dominates the city centre of the town of Illueca. It was declared a Historic and Artistic Monument in 1931.
The structure of the Papa Luna castle palace is from the 14th century, with Mudejar features, but hidden due to work in the Renaissance.A monumental portal, framed by towers, gives way to a patio with an outstanding main stairway, from the 17th century, and also the Golden room and the room with the alcove (14th century), the Crown of Aragon room (17th century) and the Mausoleum room, containing the remains of Benedict XIII. The Hospedería of the Papa Luna castle palace has respected the historical dimension of the area it occupies through the many details in its atmosphere. It has 26 double rooms distributed over three floors.Four of them are suites; of these, particularly outstanding are the two duplexes and very especially the one occupying the southeast tower, because of the panoramic views that can be enjoyed from there.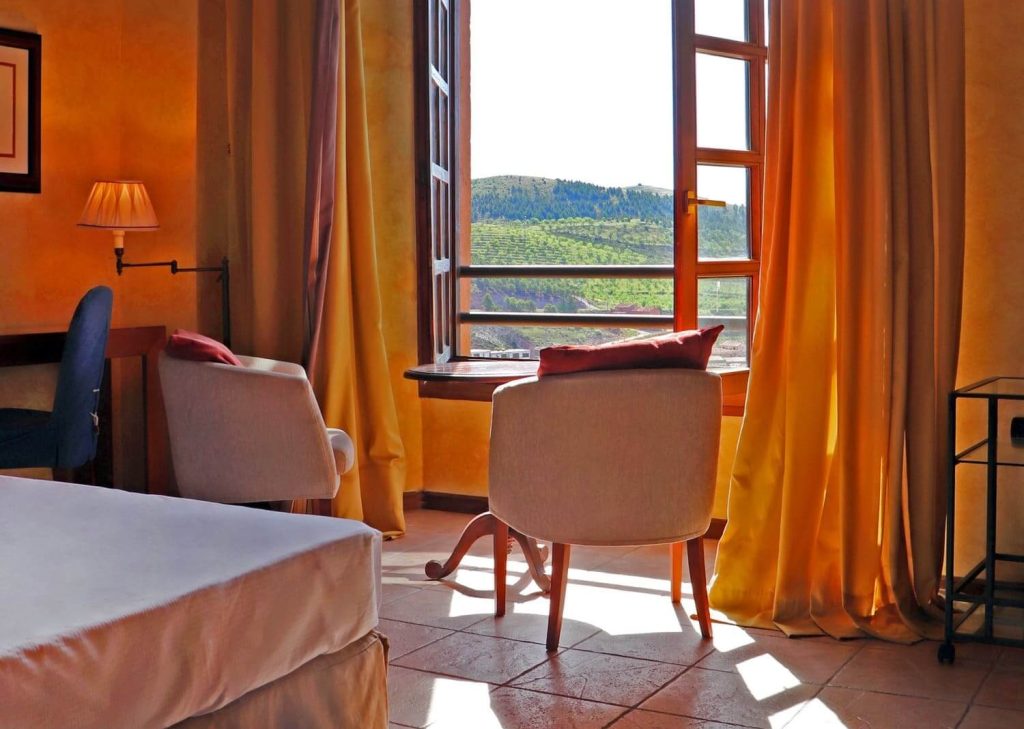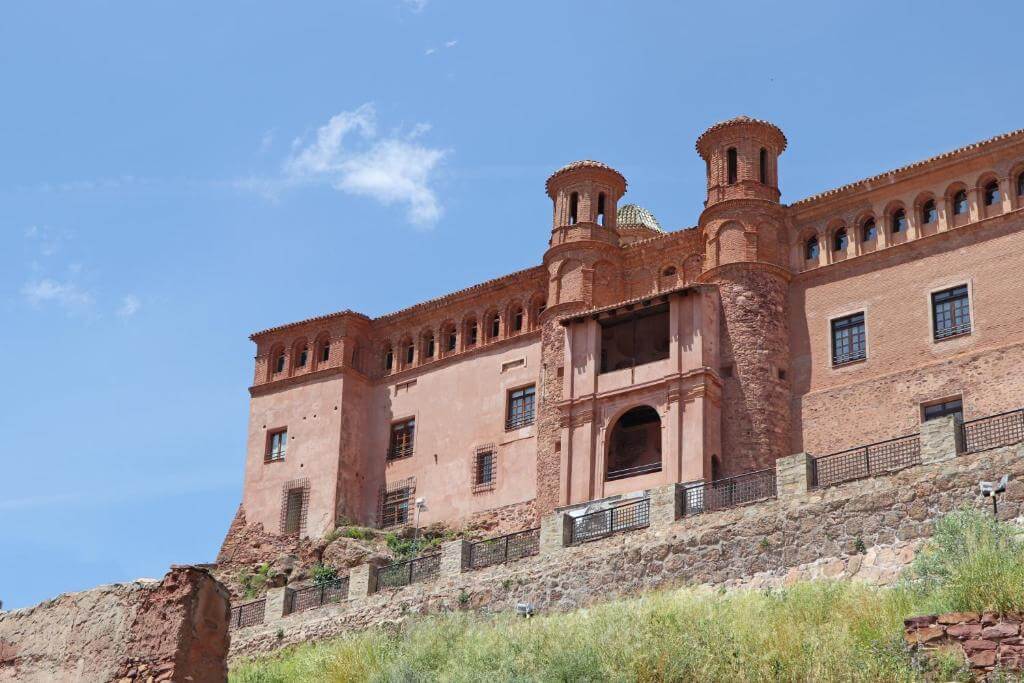 This establishment has a wide range of common services, such as the restaurant, the lounge, coffee bar and meeting rooms and convention halls.The great advantage of the gastronomic offer of the Papa Luna Castle-Palace Hospedería resides in its versatility. In addition to the traditional dishes and incursions into contemporary cuisine in its fixed menu and à la carte menu, services of gastronomic programmes for groups are offered.The restaurant defends the excellence of the local products and offers exquisite treatment to guests.
Hospedería Palacio del Papa Luna
Illueca is capital of the district of Aranda, a territory located in the eastern sector of the Iberian Mountain range.It extends from the Sierra of the Moncayo to the valley of the Jalón River. It is one of the great unknown places, in spite of it many attractions, among which are its landscapes – simple but captivating – its nature, rich and biodiverse, its historic and artistic heritage and, of course, its ethnography.
Here, Nature lovers will find lush river forests, rugged rocky areas or will also enjoy walks in the surroundings of the Maidevera reservoir. Those who enjoy history can interpret the legacy held by the district in its spectacular castles, convents, and rock hermitages; and lovers of art and architecture will discover architectural gems from the Roman to the Baroque era, passing through sumptuous Gothic-Mudejar buildings.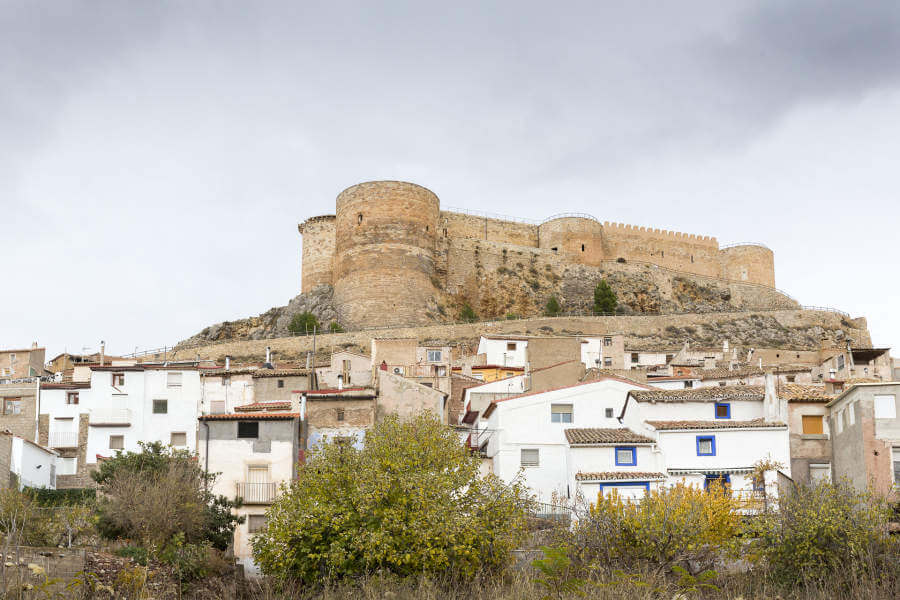 Also noteworthy in Illueca are the old Medieval Bridge and the church of San Juan Bautista (Property of Cultural Interest), from the 14th century, with plasterwork domes of the Mudejar tradition (17th century).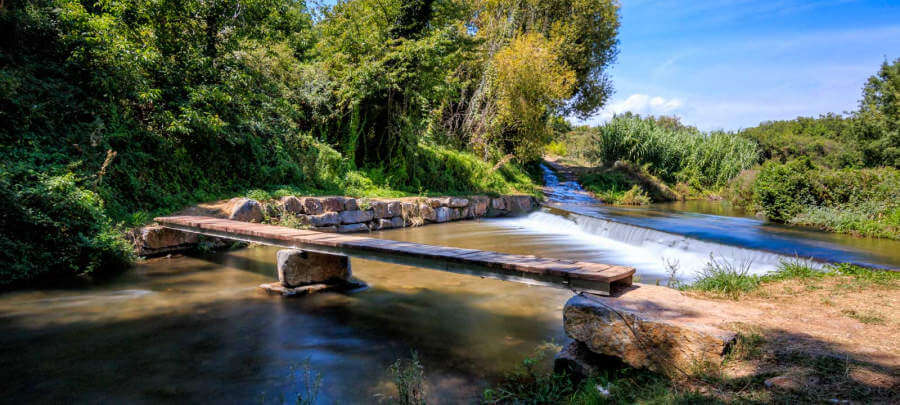 Very near Illueca, Brea de Aragón offers the church of Santa Ana. In the village, a visit can be made to the Footwear Museum, testimony of a traditional economic activity in the district. A visit to Gotor, Jarque or Mesones de Isuela is also highly recommended.